you love to knit, crochet, weave, felt or just love to touch fiber, then you are in the right spot. Come and meet Anne from Danger Looms!
     Brief bio where you are from and how you started
I'm from Calgary, Alberta, I got started when a friend of mine bought me a drop spindle and some wool. I am a member of the SCA (Society of Creative Anachronisms) and they practically railroaded me into becoming a fiber artist.
I'm a big animal lover as well – I have five Parrots (Four of which are my Quality Control inspectors) and a cat, with hopes of someday having my own sheep farm.

 How did your Studio get its name?
This webcomic: 
http://www.irregularwebcomic.net/570.html
  gave me the idea, and a friend drew the image for it. The author of the comic knows about the shop too!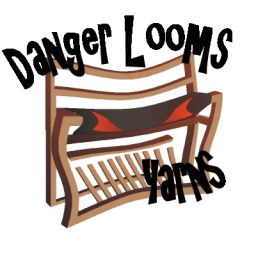 What material do you work with?
Mostly wool, although I will do specialty fibers if the buyer is willing to pay. Iv'e worked with Camel, silk, and blends too.  I'm also a Knitter, felter and naalbinder, although for sales purposes I only spin the yarn – I knit a bit too slow to make any good profit off of it!  Spinning though… my teachers told me I've surpassed them, and that they can teach no more to me.
When did you discover your creative side?
I've always been creative. I have stories I wrote in elementary school, with hand drawn artwork and everything as well. I was always crafty – painting, sculpting… mom taught me to knit when I was six or seven.
What inspires you and what get's you motivated?
I love the colors and posibilities of unspun fiber! Money is a small part of the motivation – I hate spinning without an intent in mind.  The choices, capabilities and options are just too many that I guess I prefer others to choose what I should spin for me.
 Describe yourself with 5 words?
Passionate, ingenious, cunning, stubborn and mindful
And here are the places where Danger Loom can be found: